CDA Tall Fridge Freezer FF660
An A+ rated upright fridge freezer in stainless steel colour, with a chilled water dispenser. The appliance has total no frost technology ensuring fresher food, no build-up of frost and a more hygienic refrigerator. The new FF660SC freestanding combi features a refillable water dispenser giving access to chilled water without the need for any plumbing..
Appliance Features:
Chilled water dispenser
Door open signal
Electronic control with LED display
Height adjustable feet
Holiday mode
LED interior lighting
Fridge Features:
Adjustable glass shelves: 4
In-door balconies: 2
Lidded dairy compartments: 1
Salad crisper drawers: 1
Freezer Features:
Fast freeze function
Star rating: 4
Storage compartments: 3
Capacity:
Freezer capacity: 118/93L gross/net,
Fridge capacity: 240/229L gross/net,
Total capacity: 358/322L gross/net
Dimensions:
1850(h) x 595(w) x683(d) mm
2 Year Warranty
The dimensions and fitting guide are available from the diagram below.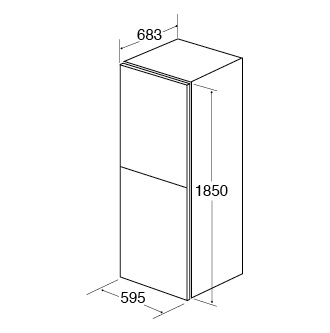 Fitting Diagram
Delivery Details
This product's shipping category is standard. Please refer to the table for an approximate delivery cost.
Collect
(incl. own courier)
Light
Standard
Heavy
Local
Free
£6.99
£11.99
£29.99
East Midlands
Free
£9.99
£19.99
£34.99
British Mainland
Free
Enquire
Enquire
Collect Only
Other Destinations
Free
Collect Only
Collect Only
Collect Only
Per Extra Item
Free
£3.99
£4.99
£14.99