CDA Tall Fridge Freezer FF770SS
The new stainless steel premium combi Fridge-Freezer offers an impressive 431Litres gross capacity along with an ice cube compartment with twist ice cube maker. It has total no frost technology ensuring fresher food, no build-up of frost and a more hygienic refrigerator.
APPLIANCE FEATURES
Door open signal
Electronic control with LED display
Height adjustable feet
Holiday mode
Interior light fridge (type and quantity): 1 LED interior light
FRIDGE FEATURES
Adjustable glass shelves: 4
In-door balconies: 4
Lidded dairy compartments: 2
Salad crisper drawers: 1
APPLIANCE CAPACITIES
Freezer capacity: 136/97L gross/net
Fridge capacity: 295/288L gross/net
Total capacity: 431/385L gross/net
FREEZER FEATURES
Fast freeze function
Ice cube compartment with twist ice cube maker
Star rating: 4
Storage compartments: 3
APPLIANCE ACCESSORIES
Egg tray number: 2
TECHNICAL SPECIFICATION
Climate class: SN-T
Compressor number: 1
Freezing capacity: 12kg/24h
Frost free: Total no frost
Max storage time (power failure): 18h
Noise level: 43dBA
Power supply: 13A
Rated power: 115W
Refrigerant quantity: 48g
Refrigerant type: R600a
UK plug Voltage/ frequency: 220-240/50Vac/Hz
ENERGY RATING
Energy consumption per annum: 337kW.h
MISCELLANEOUS INFORMATION
WEEE Category: 12
The dimensions and fitting guide are available from the diagram below.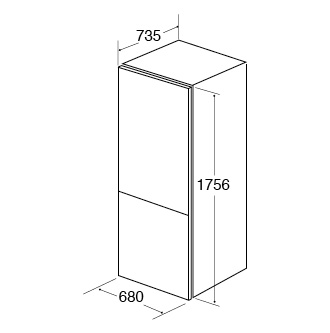 Dimensions/Fitting Diagram
Delivery Details
This product's shipping category is standard. Please refer to the table for an approximate delivery cost.
Collect
(incl. own courier)
Light
Standard
Heavy
Local
Free
£6.99
£11.99
£29.99
East Midlands
Free
£9.99
£19.99
£34.99
British Mainland
Free
Enquire
Enquire
Collect Only
Other Destinations
Free
Collect Only
Collect Only
Collect Only
Per Extra Item
Free
£3.99
£4.99
£14.99