Montpellier M605W Side-By-Side Fridge Freezer
£539.99
Side By Side Fridge Freezer
No Frost
Electronic touch control temperature
Temperature alarm
Quick freeze
1.78 metres tall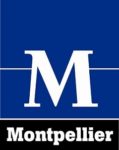 In stock
Side By Side Fridge Freezer
No Frost
Electronic touch control temperature
Temperature alarm
Quick freeze
1.78 metres tall
Montpellier M605W Side-By-Side Fridge Freezer
Side By Side Fridge Freezer. No Frost. Electronic touch control temperature. Temperature alarm. Quick freeze. 1.78 metres tall.
The M605W is an American style fridge freezer with full height fridge and freezer sections behind double doors. It will provide you with extra large fridge and freezer capacity in a modern design but at a far more affordable price than many other brands. This dide by side fridge freezer will be perfect for a larger family or household.
All the fridge and freezer shelves, drawers and door storage are adjustable, so you can arrange it according to your needs and adjust it to provide more space for larger items if necessary.
There is a digital touch control panel on the front meaning that you can easily alter settings and temperatures at just the touch of a button. With a handy child lock, it's also safe from little inquisitive hands.
This is a no-frost appliance so requires minimal maintenance – just an occasional wipe clean. The no-frost feature also helps to maintain an even temperature throughout. It is also equipped with a quick freeze function – which means it is great for quickly freezing newly inserted items to lock in maximum freshness and help them last longer.
To help save you energy and to ensure food stays fresh, there is an audible alarm which triggers if the door has been left open.
This item comes in a white finish but there is also a stainless steel version of this model if you prefer.
Side By Side Fridge Freezer Specifications
A+ Energy Rating
Two Year Guarantee for both parts and labour.
No Frost
Electronic Touch Control Panel on Door
Quick Freeze Function
Carbon Filter Inside Air-Duct
Height : 1780mm
Width : 900mm
Depth : 650mm
Delivery Details
This product's shipping category is heavy. Please refer to the table below for an approximate delivery cost.
Note that we are engineers as well as retailers, so if you also need fitting or disposal services we are far cheaper than AO or Curry's (and much more reliable)!
Collect
(incl. own courier)
Light
Standard
Heavy
Local
Free
£6.99
£11.99
£29.99
East Midlands
Free
£9.99
£14.99
£34.99
British Mainland
Free
Enquire
Enquire
Collect Only
Other Destinations
Free
Collect Only
Collect Only
Collect Only
Per Extra Item
Free
Free
Free
Free
Important Notice! Shipping charges are for time and mileage, so if you also want us to fit your new appliance and dispose of an old one, please telephone to order the extra services before the delivery! Otherwise the engineer won't have time and there will be extra cost and delay in calling back. Fitting tariffs are here - Fitting & Other Services.