Fridge with water dispenser : Beko LSG1545DW
A great value tall larder fridge with water dispenser delivering chilled water on demand. 252 litres. Auto-defrost. Dimensions: H145.5 x W54.5 x D60 cm. This modern styled Beko larder fridge looks great in your kitchen and it gets good reviews for reliability. It has a 252 litre capacity over 5 shelves (plus the salad drawer) and holds 14 bags of food shopping, so it's well suited to a medium-sized household. A salad crisper is designed to keep fruit and vegetables fresher for longer.
At 1.455m tall and 54.5cm wide this is a medium sized refrigeration appliance – not as over-whelming and impossible to get through the doorways like some, but significantly bigger than the typical under-counter appliance. Just the right size to be useful without being an eyesore.
This model has auto defrost technology, which regularly circulates cold air around the cabinet to prevent the build-up of ice inside. Thanks to this, you won't have to tackle defrosting manually. Rated A+ for its efficient use of energy, this fridge will have an estimated annual energy cost of just over £20. That's how cheap an efficient modern refrigerator can be to run.
This fridge also has a reversible door, meaning it can be adapted to your kitchen, whatever the layout. If you would like this job done for you it's worth calling our office before the delivery so that we know to send an engineer with the fridge with the time to do it for you.
There is a temperature warning light to tell you if there is any problem keeping cool. This is most likely if someone has left the door ajar. Note that like the majority of fridges and freezers, this appliance won't like the extremes of temperature in an outside garage location.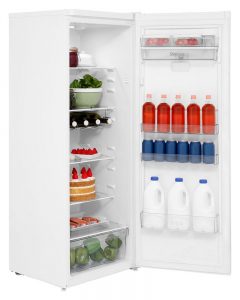 Fridge with water dispenser Full Specifications
Annual Energy Consumption 132 Kwh
Annual Energy Cost Based On 15.40p/Unit £20.33
Energy Rating A+
Adjustable Shelves Yes
Auto Defrost Refrigerator Yes
Bottle Storage In The Door Yes
Dairy Compartment No
Egg Tray Yes
Larder Fridge Yes
Salad Crisper Yes
Shelf Type Safety Glass
Dimensions (H)145.5 x (W)54.5 x (D)60.0
Anti Bacterial Protection Yes
Display Type None
Fridge Capacity (Net) 252 Litres
Hinge Position Right
Interior Light LED
Manufacturer Warranty: 1 Year
Noise Level 38 dB
Number of Shelves (Fridge) 5
Open Door Alert No
Required Room Temperature 10 to 43 °C
Reversible Door Yes
Temperature Controls Yes
Temperature Warning Light No
Weight 43 Kg
Delivery Details
This product's shipping category is standard. Please refer to the table below for an approximate delivery cost.
Note that we are engineers as well as retailers, so if you also need fitting or disposal services we are far cheaper than AO or Curry's (and much more reliable)!
Collect
(incl. own courier)
Light
Standard
Heavy
Local
Free
£6.99
£11.99
£29.99
East Midlands
Free
£9.99
£19.99
£34.99
British Mainland
Free
Enquire
Enquire
Collect Only
Other Destinations
Free
Collect Only
Collect Only
Collect Only
Per Extra Item
Free
Free
Free
Free
Important Notice! Shipping charges are for time and mileage, so if you also want us to fit your new appliance and dispose of an old one, please telephone to order the extra services before the delivery! Otherwise the engineer won't have time and there will be extra cost and delay in calling back. Fitting tariffs are here - Fitting & Other Services.