Amica AFG5500WH 50cm Double-Oven Gas Cooker
£329.99
All gas Double oven and gas hob
Slim 50cm width
Finished in white with white rotary knobs
Flame failure safety devices
Grill pan
LPG compatible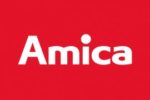 In stock
All gas Double oven and gas hob
Slim 50cm width
Finished in white with white rotary knobs
Flame failure safety devices
Grill pan
LPG compatible
Amica AFG5500WH Gas Cooker

All gas Double oven and gas hob. Slim 50cm width. Finished in white with white rotary knobs. Flame failure safety devices. Grill pan. LPG compatible

The AFG5500WH is a 50cm freestanding cooker with a double oven and a gas hob. The gas hob has 4 burners, enamel pan supports and a flame failure device for added safety. The main oven is 47 litres and the second cavity, which can be used as a grill, is 22 litres.

The Amica AFG5500WH gas cooker has white rotary control knobs and enamel pan supports. The main oven has an interior light, and both cavities have double glazed doors with removable inner door glass for easy cleaning.

While mostly aiming at a cheaper sector of the market, Amica is now part of the CDA group, and shares their reputation for reliability. Amica are very good value for money.
Gas Cooker Specifications
Hob Features :
Residual heat indicators
Pan supports: Enamel
Number of burners: 4
Hob type: Gas
Flame failure
Automatic ignition
Oven Features :
Oven fuel type: Gas
Number of cavities: 2
Flame failure
Easy clean enamel interior
Accessories :
LPG conversion kit included
Grill pan with grid: 1
Grill pan handles: 1
Flat oven shelves: 2
Dimensions :
Width: 500
Height: 900
Depth: 600
Door Features :
Removable door
Removable inner door glass for easy cleaning
Double glazed door
Hob Specifications :
Rear right
semi-rapid: 1.8 kW
Rear left
semi-rapid: 1.8 kW
Front right
auxillary: 1 kW
Front left
rapid: 2.8 kW
Lighting :
Number of lights: 2
Light power: 25 W
Main Oven Energy Efficiency
Energy rating: A
Main Oven Features :
Number of functions: 1
Heat source in oven : Gas
Gas oven
Other Features :
Gas configuration as supplied: G20
Second Oven Features :
Number of functions: 2
Gas oven
Gas grill
Technical Specifications :
Second oven net capacity: 22 L
Rated power: 0.025 kW
Rated gas input: 12 kW
Power supply: 13 A
Main oven net capacity: 47 L
Delivery Details
This product's shipping category is standard. Please refer to the table below for an approximate delivery cost.
Note that we are engineers as well as retailers, so if you also need fitting or disposal services we are far cheaper than AO or Curry's (and much more reliable)!
Collect
(incl. own courier)
Light
Standard
Heavy
Local
Free
£6.99
£11.99
£29.99
East Midlands
Free
£9.99
£14.99
£34.99
British Mainland
Free
Enquire
Enquire
Collect Only
Other Destinations
Free
Collect Only
Collect Only
Collect Only
Per Extra Item
Free
Free
Free
Free
Important Notice! Shipping charges are for time and mileage, so if you also want us to fit your new appliance and dispose of an old one, please telephone to order the extra services before the delivery! Otherwise the engineer won't have time and there will be extra cost and delay in calling back. Fitting tariffs are here - Fitting & Other Services.