Gas Cooker. White Amica 608GG5MS(W)
£269.99
Gas Cooker in white
Triple glazed glass door
Enamel interiors
2000 watt Integrated Grill
Automatic ignition
LPG convertible
Timer
A Rated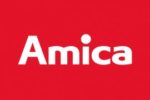 In stock
Gas Cooker in white
Triple glazed glass door
Enamel interiors
2000 watt Integrated Grill
Automatic ignition
LPG convertible
Timer
A Rated
Gas Cooker in white – the Amica 608GG5MS(W)
Gas Cooker in white. Triple glazed glass door. Enamel interiors. 2000 watt Integrated Grill. Automatic ignition. LPG convertible. Timer.
This is a good looking and well built gas cooker from the Polish based company Amica. It ticks all the boxes to meet any families daily cooking requirements. It has standard dimensions (a 60cm width appliance), 47 litres of oven space in its single cavity, and four gas burners on the hob. The cooker is suitable for conversion to use LPG bottled gas so even if you live in an area not serviced by a gas mains you can still enjoy all the benefits of gas cooking. Similarly this cooker could be fitted into a caravan or a narrow-boat or other non-conventional residence where there is no mains gas plumbing.
This gas cooker comes with Amica's two year Guarantee.
ENERGY RATING A:  Huge savings on your monthly energy bills.

OVEN TYPE GAS: A high oven temperature can be achieved in a rapid time. An ideal oven for cooking dishes which require a crisp, brown crust.
MECHANICAL TIMER WITH STOP FUNCTION: The timer informs you when cooking is complete and automatically switches off the heat.
GAS OVEN IGNITION: A very safe and comfortable way to ignite gas in the oven: just turn the knob and the burner lights automatically.
EASY-CLEAN ENAMEL: GREY OVEN INTERIOR: Grease will not stick to the oven walls, making continual oven cleaning a thing of the past.
NUMBER OF ROASTING TRAYS: The two deep, non-stick, dishwasher-safe roasting trays are ideal for roast potatoes, meats, vegetables and other delicious dishes
WIRE SHELVES:  Stable and sturdy wire shelving means you can rest assured shelves won't fall or slip when being moved or removed.
SUPERGRILL: The 2000w grill allows you to grill food more safely with the door closed.
BURNER SAFETY VALVES – OVEN: Safety first. If the flame goes out uncontrollably the safety valve cuts off gas supply to the burners and prevents gas leakages.
TRIPLE GLAZED DOOR: Cool-to-touch, thick glass prevents any heat from escaping, saving energy and cooking your dishes faster.
FLAME FAILURE SAFETY DEVICE – HOB: If the flame is extinguished, the gas supply is immediately cut off, keeping you and your family safe.
LPG JETS: These Amica gas cookers are fitted with natural gas jets as standard but LPG jets & a conversion kit is included if conversion is required.
AUTOMATIC IGNITION: The gas is ignited when the control knob is turned.
Gas Cooker Specifications
Width 600 mm
Height 900 mm
Depth 600 mm
Type of hob Gas
Colour White
Energy rating A
Oven capacity in litres 47 litres
Oven type Gas
Mechanical timer with STOP function
Gas oven ignition
Easy-clean enamel: grey oven interior
Number of roasting trays: 2
Wire shelf
Supergrill
Burner Safety valves – oven
Triple glazed door
4,0 cm Eco auxiliary burner (0,65 kW)
6,5 cm Eco standard burner (1,4 kW)
6,5 cm Eco standard burner (1,4 kW)
9,0 cm Eco large burner (2,4 kW)
Flame failure safety device – hob
LPG jets
Automatic ignition
Delivery Details
This product's shipping category is standard. Please refer to the table below for an approximate delivery cost.
Note that we are engineers as well as retailers, so if you also need fitting or disposal services we are far cheaper than AO or Curry's (and much more reliable)!
Collect
(incl. own courier)
Light
Standard
Heavy
Local
Free
£6.99
£11.99
£29.99
East Midlands
Free
£9.99
£14.99
£34.99
British Mainland
Free
Enquire
Enquire
Collect Only
Other Destinations
Free
Collect Only
Collect Only
Collect Only
Per Extra Item
Free
Free
Free
Free
Important Notice! Shipping charges are for time and mileage, so if you also want us to fit your new appliance and dispose of an old one, please telephone to order the extra services before the delivery! Otherwise the engineer won't have time and there will be extra cost and delay in calling back. Fitting tariffs are here - Fitting & Other Services.