Hotpoint PCN642THBK 60cm Gas Hob

Automatic ignition. 1 Rapid Burner, 2 Semi Rapid Burners, 1 Standard Burner. Enamelled pan supports. Front knobs. Black finish

Definitely a better looker than most, this gas hob is also very efficient, flexible and easy to operate. The knobs are located to the front edge and the burners are arranged in a diamond formation which many find makes it easier to locate and access different sized pans. It will also look just great built into your kitchen worktops. Even the knobs are well designed and very easy to get a grip of with wet or greasy hands.

Automatic electric ignition of the gas makes it even easier to use but is also there to ensure the gas is never switched on and left unlit. Flame failure devices are also fitted, so if a burner goes out because of an overflowing pan or a very strong gust of wind the gas is automatically shut off to protect you. The auto-ignition is electric but only needs plugging in to an ordinary electric socket. Of course you need a fully qualified gas fitter to connect up the gas. LPG bottled gas can also be connected to this hob, so even if you do not have a mains gas supply, or want to fit a hob in a mobile home or narrow boat, you can still enjoy the luxury of gas cooking.
Gas Hob Specifications
Number of burners 4 Burners
Pan stand type Enamelled interchangeable
Colour Black
Material Sheetmetal
Location of control panel Hob front
Type of control Mechanical
Total number of positions that can be used at the same time 4
Energy Type Gas
Alternative gas type GPL
Voltage(V) 220-240
Plug type United Kindom
Gas safety device Electromagnetic for each burner
Warranty 1 year labour/5 years parts
Dimensions
Depth 51cm
Height 4cm
Width 59cm
Cut out width 555cm
Cut out depth 475cm
Gas Hob Techical Diagram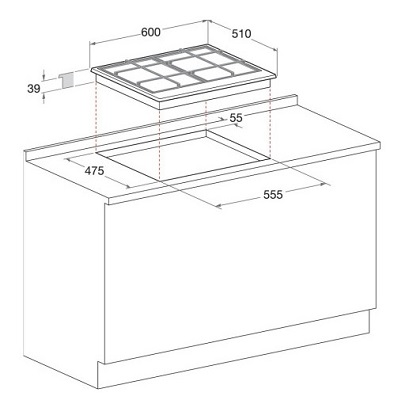 Delivery Details
This product's shipping category is standard. Please refer to the table below for an approximate delivery cost.
Note that we are engineers as well as retailers, so if you also need fitting or disposal services we are far cheaper than AO or Curry's (and much more reliable)!
Collect
(incl. own courier)
Light
Standard
Heavy
Local
Free
£6.99
£11.99
£29.99
East Midlands
Free
£9.99
£14.99
£34.99
British Mainland
Free
Enquire
Enquire
Collect Only
Other Destinations
Free
Collect Only
Collect Only
Collect Only
Per Extra Item
Free
Free
Free
Free
Important Notice! Shipping charges are for time and mileage, so if you also want us to fit your new appliance and dispose of an old one, please telephone to order the extra services before the delivery! Otherwise the engineer won't have time and there will be extra cost and delay in calling back. Fitting tariffs are here - Fitting & Other Services.