Indesit PAA642IBK Gas Hob
£119.99
Aria range 4 Burner Gas Hob in black
Side controls
60cm wide
Automatic ignition (requires socket)
Easy-clean enamel
High power flame
LPG compatible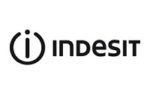 In stock
Aria range 4 Burner Gas Hob in black
Side controls
60cm wide
Automatic ignition (requires socket)
Easy-clean enamel
High power flame
LPG compatible
Indesit PAA642IBK Gas Hob

Aria range 4 Burner Gas Hob in black. Side controls. 60cm wide. Automatic ignition (requires socket), Easy-clean enamel. High power flame. LPG compatible

A practical, powerful and efficient gas hob for building in to your kitchen worktop. The Indesit Aria PR642I BK Gas Hob is easy-to-use for all your everyday cooking requirements. At 60cm wide and finished in a sleek matt black, this model will be a stylish and convenient addition to your kitchen.

The four separate gas burners are designed in a range of sizes and heating power so you can choose the most appropriate for your pan size and cooking operation. It features one rapid, two semi-rapid and one regular burner. It also has automatic ignition (electric – so you will need to have a socket handy to plug it into), and provides plenty of cooking flexibility. Pans are kept stable by easy-to-clean enamel pan supports.

This hob has the advantage of some advanced modern design. Indesit's High Power Flame Technology provides direct and efficient heating energy and is specially designed both to make the hob more energy efficient and to reduce your cooking times.

This gas hob is also designed for your peace of mind: the Indesit Aria PAA6421BK Gas Hob comes with both automatic ignition and flame safety devices. Together these ensure that the gas will never be left flowing when unlit. If the flame goes out while a pan is on the hob, for example because it boils over, the gas supply is automatically cut off by the detector.

The finish and fixtures of this Aria gas hob are designed to perfectly integrate with Indesit's matching Aria oven.
Gas Hob Specifications
Amperage6A
Aperture neededW55.5 x D47.5cm
Brand Indesit
Burner Power1 x 1000W
2 x 1900W
1 x 3000W
Cable Included NO
Control Position Front
Dimensions:
H3.5cm x W60cm x D51cm
Finish Black
Hob Fuel Gas
Ignition TypeAutomatic
Number of Burners 4
Pan Supports Enamel
Plug Included YES
Residual Heat Indicator Yes
Total load rating (kW)7.8
Touch Control NO
Type Integrated
Gas Hob Techical Diagram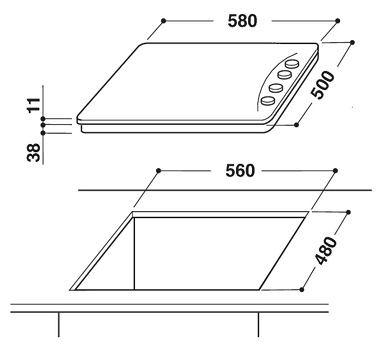 Delivery Details
This product's shipping category is standard. Please refer to the table below for an approximate delivery cost.
Note that we are engineers as well as retailers, so if you also need fitting or disposal services we are far cheaper than AO or Curry's (and much more reliable)!
Collect
(incl. own courier)
Light
Standard
Heavy
Local
Free
£6.99
£11.99
£29.99
East Midlands
Free
£9.99
£14.99
£34.99
British Mainland
Free
Enquire
Enquire
Collect Only
Other Destinations
Free
Collect Only
Collect Only
Collect Only
Per Extra Item
Free
Free
Free
Free
Important Notice! Shipping charges are for time and mileage, so if you also want us to fit your new appliance and dispose of an old one, please telephone to order the extra services before the delivery! Otherwise the engineer won't have time and there will be extra cost and delay in calling back. Fitting tariffs are here - Fitting & Other Services.