Amica ZIM466E Slim Integrated Dishwasher
£284.99
Integrated
Slim 45cm width
10 place settings
6 wash programs
A+ energy efficiency
Adjustable baskets
Active drying technology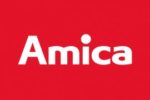 In stock
Integrated
Slim 45cm width
10 place settings
6 wash programs
A+ energy efficiency
Adjustable baskets
Active drying technology
Amica ZIM466E Slim Integrated Dishwasher

Extra Slim 45cm width. 10 place settings. 6 wash programs. A+ energy efficiency. Adjustable baskets. Active drying technology

The Amica ZIM466E Slim Integrated Dishwasher is an A+ rated slimline dishwasher with a width of just 45cm. Whilst discreetly integrating into your kitchen design, despite its conveniently discrete width it offers great functionality. The Amica ZIM466E can still hold up to 10 place settings in one go. With 6 programmes to use from and an easy to use LED display, this machine can cope with the needs of most average sized families.

A useful delay timer (up to 24 hours) means that you can program your dishwasher to run at the time that best suits you. Use this feature to take best advantage of lower energy tariffs if they are available to you. Otherwise, although it is quiet in operation (a maximum of 45 dB) some people prefer to leave the dishwasher off while they relax after an evening meal. The ZIM466E can therefore perform brilliantly for you while remaining unobtrusive in every way.

With its A+ energy performance it will also stay unobtrusive on your household electricity bills.
Slim Integrated Dishwasher Specifications
Features
Spray levels: 3
Place settings: 10
Levelling feet with front control
LED salt indicator
LED rinse aid indicator
LED progress indicator
Hour delay timer: 24 hours
Half Load
Digital display
Concealed heating element
Acoustic end of programme signal
Programme Overview
Programme: Auto 45-55
Programme: Intensive 65 °C
Programme: Normal 55 °C
Programme: Eco 50 °C
Programme: 1 Hour 60 °C
Programme: Rapid 40 °C
Dimensions
Width: 448
Height: 815
Depth: 550
Energy
Water consumption per cycle: 2520 L
Water consumption per annum: 9 L
Wash rating: A
On mode power consumption: 0.5 W
Off mode power consumption: 0.5 W
Energy rating: A+
Energy consumption per cycle: 0.83 kW.h
Energy consumption per annum: 237 kW.h
Drying rating: A
Programmes
Programme 6: Rapid
Programme 5: 1 Hour
Programme 4: Eco
Programme 3: Normal
Programme 2: Intensive
Programme 1: Auto
Number of programmes: 6
Technical Specification
Rated electrical power: 1.93 kW
Power supply required: 13 A
Noise level: 47 dBA
Delivery Details
This product's shipping category is standard. Please refer to the table below for an approximate delivery cost.
Note that we are engineers as well as retailers, so if you also need fitting or disposal services we are far cheaper than AO or Curry's (and much more reliable)!
Collect
(incl. own courier)
Light
Standard
Heavy
Local
Free
£6.99
£11.99
£29.99
East Midlands
Free
£9.99
£14.99
£34.99
British Mainland
Free
Enquire
Enquire
Collect Only
Other Destinations
Free
Collect Only
Collect Only
Collect Only
Per Extra Item
Free
Free
Free
Free
Important Notice! Shipping charges are for time and mileage, so if you also want us to fit your new appliance and dispose of an old one, please telephone to order the extra services before the delivery! Otherwise the engineer won't have time and there will be extra cost and delay in calling back. Fitting tariffs are here - Fitting & Other Services.