Amica ZZV634W 60cm semi-integrated Dishwasher
£259.99
Full width semi integrated dishwasher with 12 place settings
A++ energy rating
Delay timer
4 wash programs
Adjustable baskets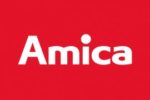 In stock
Full width semi integrated dishwasher with 12 place settings
A++ energy rating
Delay timer
4 wash programs
Adjustable baskets
Amica ZZV634W Semi- integrated dishwasher

Full width semi integrated dishwasher with 12 place settings. A++ energy rating. Delay timer. 4 wash programs. Adjustable baskets

The ZZV634W is a standard 60cm wide semi-integrated dishwasher. It comes with an impressive A++ energy rating to keep those household electricity costs as low as possible. The dishwasher is very easy to use and comes in a white finish that won't clash with any kitchen colour scheme.

The Amica ZZV634W Semi- integrated dishwasher also has heaps of features that include; height adjustable upper baskets, a delay timer, an LED rinse indicator, and LED salt level indicator, and a choice of 4 different wash programmes so that you can always achieve spotless dishes whatever the state of your pots, but also look after your more delicate pots, bowls and glasses.
Semi-integrated Dishwasher Specifications
Spray levels: 2
Place settings: 12
Overflow protection
Number of baskets: 2
LED salt indicator
LED rinse aid indicator
Height adjustable upper baskets
Half Load
Basket colour: Dark Grey
Acoustic end of programme signal
3/6/9/12 hour delay timer
Dimensions :
Width: 598
Height: 820
Depth: 570
Energy :
Water consumption per cycle: 12 L
Water consumption per annum: 3640 L
Energy efficiency class: A++
Energy consumption per cycle: 0.9 kW.h
Energy consumption per annum: 258 kW.h
Energy consumption per annum: 3360 kW.h
Drying rating: A
Programmes :
Programme 4: Intensive
Programme 3: Eco
Programme 2: Prewash
Number of programmes: 4
Standard programme: Eco
Power supply required: 13 A
Delivery Details
This product's shipping category is standard. Please refer to the table below for an approximate delivery cost.
Note that we are engineers as well as retailers, so if you also need fitting or disposal services we are far cheaper than AO or Curry's (and much more reliable)!
Collect
(incl. own courier)
Light
Standard
Heavy
Local
Free
£6.99
£11.99
£29.99
East Midlands
Free
£9.99
£14.99
£34.99
British Mainland
Free
Enquire
Enquire
Collect Only
Other Destinations
Free
Collect Only
Collect Only
Collect Only
Per Extra Item
Free
Free
Free
Free
Important Notice! Shipping charges are for time and mileage, so if you also want us to fit your new appliance and dispose of an old one, please telephone to order the extra services before the delivery! Otherwise the engineer won't have time and there will be extra cost and delay in calling back. Fitting tariffs are here - Fitting & Other Services.