CDA FW482 In-column Integrated Freezer
The FW482 is an A+ rated and 4 star in-column freezer. It features 4 storage compartments and an ice cube tray. This CDA integrated fridge freezer is the ideal way to have ample storage space for frozen goods, without having to sacrifice on floor space in the kitchen. With that 4 star freezer rating and a thermostat dial control you can rest assured knowing that this freezer can adjust to suit whatever food you store. And with 99 litres of usable capacity, there?s more than enough room in this freezer for all the frozen essentials such as ice cream, a joint of meat, ready meals and frozen vegetables. For larger items there is a larger compartment at the bottom.
In-column (also known as integrated and built in) freezers fit into a (column) kitchen housing unit and behind a furniture door that matches your kitchen units. This CDA freezer is designed to be installed into a standard larder unit of width 560-570mm and depth of 550mm, so please measure the dimensions to ensure the freezer fits comfortably in your kitchen. The door is reversible, which makes it possible to change which direction the freezer door opens to best fit with your kitchen layout.
The thermostat control dial allows you to set the freezer between 1 (least cold) and 5 (coldest), so that you can adjust the temperature to suit your groceries. The thermostat control comes in handy when storing new food into the freezer. Simply turn the dial to number 5 for 24 hours to get fresh food frozen quickly to preserve essential nutrients and flavour. The Freezer's 4 star rating means it can store frozen goods for up to 12 months. 4 star freezers are also capable of freezing fresh food, which is ideal if you buy in bulk.
CDA are proud of their reputation for reliability and give all their appliances a confident Guarantee for 5 years parts and 2 years labour.
TECHNICAL SPECIFICATIONS
Reversible door
Fixed hinges
Freezing capacity: 8kg/24h
Total useable capacity: 99L net
Noise level: 39dBA
Climate class: ST-N
Total capacity: 109/99L gross/net
Left/ Right hinged door: Right
Max storage time (power failure): 11hours
Number of compressors: 1
Power supply: 13A
Rated power: 120W
Refrigerant quantity: 54g
Refrigerant type: R600a
UK plug
Voltage/frequency: 220-240/50Vac/Hz
ENERGY
Energy consumption in 24 hours: 0.56kW.h
Energy consumption per annum: 195kW.h
Energy rating: A+
MISCELLANEOUS INFORMATION
DIMENSIONS
Dimensions: (H) 875mm x (W) 540mm x (D) 550mm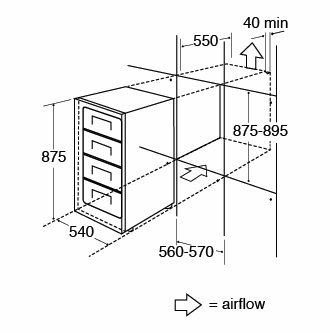 Delivery Details
This product's shipping category is standard. Please refer to the table below for an approximate delivery cost.
Note that we are engineers as well as retailers, so if you also need fitting or disposal services we are far cheaper than AO or Curry's (and much more reliable)!
Collect
(incl. own courier)
Light
Standard
Heavy
Local
Free
£6.99
£11.99
£29.99
East Midlands
Free
£9.99
£19.99
£34.99
British Mainland
Free
Enquire
Enquire
Collect Only
Other Destinations
Free
Collect Only
Collect Only
Collect Only
Per Extra Item
Free
Free
Free
Free
Important Notice! Shipping charges are for time and mileage, so if you also want us to fit your new appliance and dispose of an old one, please telephone to order the extra services before the delivery! Otherwise the engineer won't have time and there will be extra cost and delay in calling back. Fitting tariffs are here - Fitting & Other Services.