CDA Integrated Fridge Freezer FW927
£539.99
70:30 split
190 litres fridge
56 litres freezer (net/usable)
A+ energy rated
4* freezer
Frost free
Slider fixings
3 freezer drawers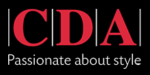 In stock
70:30 split
190 litres fridge
56 litres freezer (net/usable)
A+ energy rated
4* freezer
Frost free
Slider fixings
3 freezer drawers
CDA Integrated Fridge Freezer FW927

70:30 split. 190 litres fridge, 56 litres freezer (net/usable). A+ energy rated. 4* freezer. Frost free. Slider fixings. 3 freezer drawers

The FW925 is an Integrated 70/30 split combination fridge freezer from excellent and popular manufacturer CDA. The FW927 is A+ rated for its energy efficiency. There is an easy to use electronic control, LED interior lighting and a 4 star rated frost free freezer.

This 70/30 frost free integrated fridge freezer comes with an easy to use electronic control panel, LED interior lighting and a 4 star rated freezer. Inside the fridge boasts 4 glass shelves plus the shelf above the salad crisper area, and it also has a chromed wine rack that folds away for convenience. Also in the fridge are 3 in door balconies for a complete food storage solution. The freezer section is divided between 3 storage drawers and also contains a handy ice cube tray.

The frost free functions means you will never have to defrost. The dimensions are fairly standard for a built in refrigeration appliance. The appliance itself is 540mm in width and the housing aperture should be 560-570mm in width for it. The height is 1772mm and again the optimal housing size will be slightly larger at 1785-1790mm. The appliance is 540mm deep and a little extra space is always recommended at the back of any refrigeration appliance, so the aperture should be at least 560mm minimum depth. (There is a fitting diagram below, or call us if in any doubt).

CDA have an excellent reputation and provide a standard 2 year labour and 5 years parts guarantee on almost all their appliances.
Integrated Fridge Freezer Specifications
General Features :
LED interior lighting
Door open signal
Height adjustable feet
Control system: Electronic
Reversible door
Fridge Features :
1 humidity controlled salad crisper drawer
Chrome bottle rack
Adjustable glass shelves: 5
In-door balconies: 3
Freezer Features :
4 star rating
Frost free
Fast freeze function
3 storage compartments
1 ice cube tray
Technical Specifications :
Sliding furniture fixings
Freezing capacity: 3kg/24h
Noise level: 41dBA
Freezer capacity: 58/56L gross/net
Fridge capacity: 193/190L gross/net
Total capacity: 251/246L gross/net
Climate class: N-T
Max storage time (power failure): 11hours
Power cable length: 180cm
Power supply: 13A
Rated power: 100W
Refrigerant quantity: 45g
Refrigerant type: R600a
WEEE Category: 12
UK plug
Energy Details :
Energy consumption per annum: 270kW.h
Energy rating: A+
Integrated Fridge Freezer Techical Diagram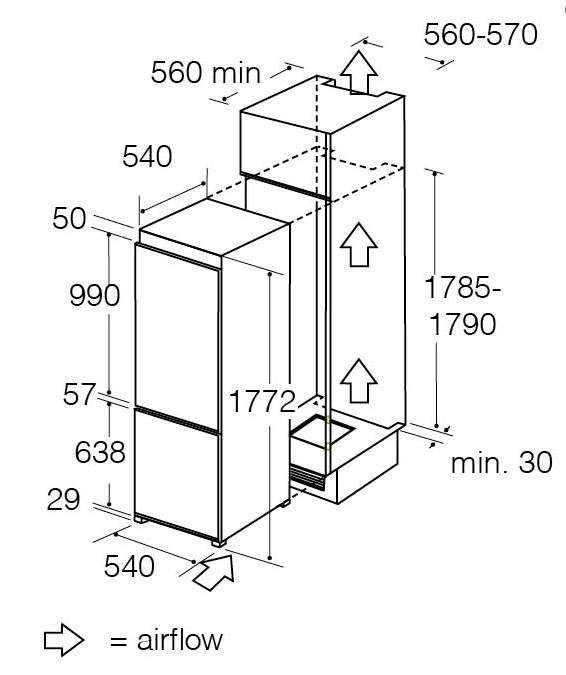 Delivery Details
This product's shipping category is standard. Please refer to the table below for an approximate delivery cost.
Note that we are engineers as well as retailers, so if you also need fitting or disposal services we are far cheaper than AO or Curry's (and much more reliable)!
Collect
(incl. own courier)
Light
Standard
Heavy
Local
Free
£6.99
£11.99
£29.99
East Midlands
Free
£9.99
£14.99
£34.99
British Mainland
Free
Enquire
Enquire
Collect Only
Other Destinations
Free
Collect Only
Collect Only
Collect Only
Per Extra Item
Free
Free
Free
Free
Important Notice! Shipping charges are for time and mileage, so if you also want us to fit your new appliance and dispose of an old one, please telephone to order the extra services before the delivery! Otherwise the engineer won't have time and there will be extra cost and delay in calling back. Fitting tariffs are here - Fitting & Other Services.