Amica AWC150BL 15cm wine cooler
£199.99
Ultra slim 15cm width
B rated energy consumption
Six bottle capacity
Temperature 5-20 centigrade
Blue LEDs
Black finish
Adjustable height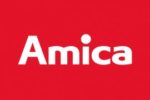 In stock
Ultra slim 15cm width
B rated energy consumption
Six bottle capacity
Temperature 5-20 centigrade
Blue LEDs
Black finish
Adjustable height
Amica AWC150BL Slim Wine Cooler

Ultra slim 15cm width. B rated energy consumption. Six bottle capacity. Temperature 5-20 centigrade. Blue LEDs, Black finish. Adjustable height

The AWC150BL is a freestanding, under counter, slim 15cm wide wine cooler with great capability. It is housed within a black finished exterior, and its other features include: 6 wooden slide out shelves with the capacity to hold a bottle each, electronic temperature control, UV protected triple-glazed smoked glass door, and a temperature alarm to guarantee optimum conditions for the storage of your wine. This is a stylish addition to any household, especially if you take your entertaining, and your wines, seriously. It is designed specifically to fit into any kitchen so that you will always have a choice of the best wines in the perfect condition ready for entertaining or relaxing after a long day or with a good meal.
Slim Wine Cooler Specifications
Dimensions
Width: 148
Height: 825-880
Depth: 525
Energy
Energy rating: B
Energy consumption per annum: 218 kW.h
Technical Specification
Voltage/Frequency: 220-250/50
UK plug
Temperature range: 5-20 °C
Refrigerant type: R600a
Power supply required: 13 A
Power cable length: 1.8 m
Number of cores: 3
Net cabinet volume: 22 L
Compressor driven
Climate class: ST
Bottle storage: 6 (75cl Bordeaux bottles)
Noise level: 44 dBA
Delivery Details
This product's shipping category is standard. Please refer to the table below for an approximate delivery cost.
Note that we are engineers as well as retailers, so if you also need fitting or disposal services we are far cheaper than AO or Curry's (and much more reliable)!
Collect
(incl. own courier)
Light
Standard
Heavy
Local
Free
£6.99
£11.99
£29.99
East Midlands
Free
£9.99
£14.99
£34.99
British Mainland
Free
Enquire
Enquire
Collect Only
Other Destinations
Free
Collect Only
Collect Only
Collect Only
Per Extra Item
Free
Free
Free
Free
Important Notice! Shipping charges are for time and mileage, so if you also want us to fit your new appliance and dispose of an old one, please telephone to order the extra services before the delivery! Otherwise the engineer won't have time and there will be extra cost and delay in calling back. Fitting tariffs are here - Fitting & Other Services.