Candy Candy 10kg Condenser Tumble Dryer in White with WiFi and Bluetooth
£244.99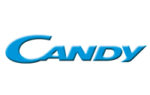 Control your drying with your phone Check on your laundry directly from your phone with the Candy Smart Pro CSO C10TG WiFi-enabled 10 kg Condenser Tumble Dryer. It has built-in WiFi, so you can monitor and manage your drying from anywhere using the Candy Simply-Fi app. Sensor drying The CSO C10TG features Sensor Dry technology to make sure your clothes are always dried to perfection. Choose from 4 different dryness levels, and the appliance will automatically switch off when your laundry is ready. There's also a range of special cycles, including an option for delicate woollens and a refresh cycle to quickly have…
Control your drying with your phone
Check on your laundry directly from your phone with the Candy Smart Pro CSO C10TG WiFi-enabled 10 kg Condenser Tumble Dryer. It has built-in WiFi, so you can monitor and manage your drying from anywhere using the Candy Simply-Fi app.
Sensor drying
The CSO C10TG features Sensor Dry technology to make sure your clothes are always dried to perfection. Choose from 4 different dryness levels, and the appliance will automatically switch off when your laundry is ready.
There's also a range of special cycles, including an option for delicate woollens and a refresh cycle to quickly have your favourite shirt ready for your night out.
Delay timer to fit around your day
The CSO C10TG has a 24-hour delay timer, so you can make sure it fits around your lifestyle. You can even use it to take advantage of cheaper electricity rates at night – your clothes will be waiting for you when you wake up.
Delivery Details
Important Notice! Shipping charges are for time and mileage, so if you also want us to fit your new appliance and dispose of an old one, please telephone to order the extra services before the delivery! Otherwise the engineer won't have time and there will be extra cost and delay in calling back. Fitting tariffs are here - Fitting & Other Services.