Candy CS 14102DE
£299.99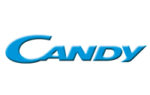 Remote control with NFC Make sure your clothes get premium care with the Candy CS 14102DE NFC 9 kg 1400 Spin Washing Machine. Use the Candy SimplyFi app and control your laundry from your smartphone. Start or stop cycles easily, download additional cycles or in case of a problem run diagnostics. KG Mode The KG mode takes care of the hard work for you. By weighing your load at the beginning of the cycle, it automatically calculates the exact time and water needed for a thorough wash of cotton and synthetic materials. Flexible washing The CS 14102DE comes with rapid cycles and delay start giving you the great…
Remote control with NFC
Make sure your clothes get premium care with the Candy CS 14102DE NFC 9 kg 1400 Spin Washing Machine.
Use the Candy SimplyFi app and control your laundry from your smartphone. Start or stop cycles easily, download additional cycles or in case of a problem run diagnostics.
KG Mode
The KG mode takes care of the hard work for you. By weighing your load at the beginning of the cycle, it automatically calculates the exact time and water needed for a thorough wash of cotton and synthetic materials.
Flexible washing
The CS 14102DE comes with rapid cycles and delay start giving you the great flexibility in the days when you're in a hurry.
The selection of multiple programs lets you adjust the spin and temperature based on the fabrics you wash.
Stain levels
Choose between 3 stain levels depending on how dirty your clothes are – tackle stubborn marks easily.
Delivery Details
Important Notice! Shipping charges are for time and mileage, so if you also want us to fit your new appliance and dispose of an old one, please telephone to order the extra services before the delivery! Otherwise the engineer won't have time and there will be extra cost and delay in calling back. Fitting tariffs are here - Fitting & Other Services.