CANDY CS 1482DE NFC 8 kg 1400 Spin Washing Machine – White
£255.99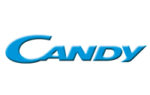 Control your washing machine with your phone With the Candy CS 1482DE Washing Machine, you don´t have to adjust your daily activities to your laundry. Thought the Candy Simply Fi app on your smart device, you can easily control the washing cycles. Also, you can optimize the washing program or even run diagnostic checks on your washing machine while you´re enjoying your free time. Adjustable washing programs This washing machine changes the lengths of programs or the water consumption according to the weight of the load. This takes place in the first four minutes of the washing process, so you'll know how…
Control your washing machine with your phone
With the Candy CS 1482DE Washing Machine, you don´t have to adjust your daily activities to your laundry. Thought the Candy Simply Fi app on your smart device, you can easily control the washing cycles.
Also, you can optimize the washing program or even run diagnostic checks on your washing machine while you´re enjoying your free time.
Adjustable washing programs
This washing machine changes the lengths of programs or the water consumption according to the weight of the load. This takes place in the first four minutes of the washing process, so you'll know how long the washing program will run.
Sometime your clothes need more care – that means the CS 1482DE adjusts the spin and water temperature to get rid of any extra dirt.
Quick washing
On a busy day, use the quick washing program that cleans your clothes in the quickest time possible.
And what's more, you can quickly regulate the start of the washing process and delay it as it suits you
Delivery Details
Important Notice! Shipping charges are for time and mileage, so if you also want us to fit your new appliance and dispose of an old one, please telephone to order the extra services before the delivery! Otherwise the engineer won't have time and there will be extra cost and delay in calling back. Fitting tariffs are here - Fitting & Other Services.